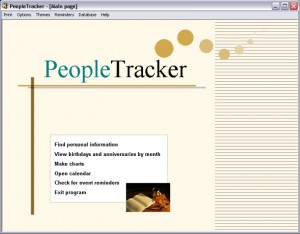 Ok, admittedly PeopleTracker does not have a 'sprinkling of science' as stated in our tagline. That's because it was built before science was invented. But seriously, although it's somewhat old, PeopleTracker runs fine on all versions of Windows.
PeopleTracker helps you organize your crazy-busy life.
Using PeopleTracker you can:
Quickly find information on all your friends and family
List birthdays and anniversaries by month
View charts of your records
Keep a calendar of all your important events
Set PeopleTracker to open automatically when you start your PC
Set up text and/or audio reminders of birthdays, anniversaries and calendar events
Choose from four background themes (sports, garden, music, nature) or two colored backgrounds
Print any records you wish
Quickly enter new records with our Quick-fill feature
Back up all your records

For Windows
This app is free and yours to use as you please.
NOTE: The app's Help files may not open in Win 10 unless you have WinHlp32.exe by Microsoft installed. Go HERE to download and install. The Help files do not work in Win 10. In any case, you can simply email for assistance. But you probably won't need to.
Questions? email: assortedsunflecks (at) gmail.com